A popular photo-altering method is shadow service. Shadow effects may be easily added, though. However, obtaining a high-quality result needs years of practice and commitment. It takes a lot of time to add shadow perfectly to a large number of images. That's why this is preferable to hire a shadow Image editor or an image editing company.
Our mission and vision are to give our clients the best possible results when it comes to picture editing. We will create your photos based on the requirements you specify.
What Is Shadow Service?
The shadow effect in Photoshop is a popular editing method. This technique works well for altering photos of models or products. Some items have an odd & unpleasant appearance when they are presented in their raw, uncut, and natural state. You may apply shadow to these sorts of photos to boost their quality. By carefully using this strategy, you may also alter the subject's viewpoint.
In addition to product pictures, shadows may be used in portraiture, group shots, landscape photography, and interior and outdoor shots.
Types Of Shadow Service
There are a variety of shadow-adding services available, depending on the type of image. You must concentrate on the product's kind and photographic arrangement in order to choose the perfect one for your photographs. With the greatest equipment and an exceptional editing setup, we developed these services.
To acquire a more thorough understanding, look at the related categories.
Natural Shadow Service
Start From – $0.99/image
Every aspect of the world, including products, has a shadow. Natural shadows are necessary for things to appear realistic. In certain instances, the shadows are either erased or never maintained. Natural shadow casting is required for such images. With our natural shadow service, we recreate the shadow that already exists in the image to bring it back to its original level of realism.
Reflection Shadow
Start From – $0.59/image
Reflection shadow offers a dramatic appearance with a modern and elegant feel. However, to produce attractive photographs, this kind of shadow effect is necessary. A common technique for creating shadows is reflection shadow since it is lifelike. However, we provide this service to provide our customers with eye-catching images.
This service has a significant impact on sunglasses, watches, and jewelry items. Our skilled editors enhance your photographs with realistic and natural-looking reflections.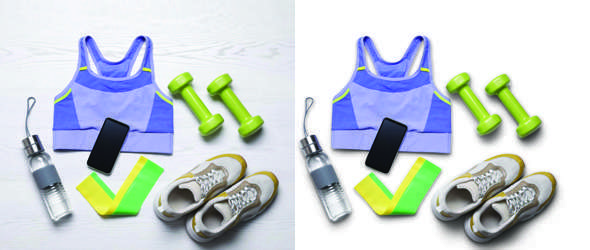 Existing Shadow Service
Start From – $0.59/image
The existing shadow is quite complicated to remove from a photo because the shadow in this group is a little off-balance. In doing so, the image achieves a remarkably aesthetic appearance. It is crucial to do this while working with e-Commerce products. Using great care, we offer the existing shadow service.
Drop Shadow Service
Start From – $0.29/image
By simulating shadowing, drop shadow brilliantly conveys the impression that the shot was taken from above. But direct sunlight is what causes this particular form of shadow. This effect prevents the image from floating on a white backdrop, making it more lifelike. Here we provide the most affordable, top-notch drop shadow services available.
Floating Shadow Service
Start From – $0.29/image
It also requires a shadow while the item is in the air. And this type of shadow is referred to as a floating shadow. You know, casting a shadow is challenging. Furthermore, the tasks double in difficulty when there is a floating shadow. Consequently, our picture editing specialists pay great attention to this. They must evaluate the angles. After that, they must create the shadow.
What Are The Benefits Of Shadow Services?
It provides the product image with a natural appearance. The natural shadow disappears from an image when the backdrop is removed. But, the image becomes lifelike as a result of employing this service.
If you are developing a product catalog for customers, using some shadows will have a more noticeable effect and will grab their attention. As a result, this service is crucial for both traditional and internet enterprises.
Through the photos, an online store owner promotes their goods. A realistic image with appropriate shadow enhances click-through rates, which in turn boosts purchases.
Other than e-commerce items, you may use these effects to improve the beauty of logos and words.
When Should You Use The Photo Shadow Effect On Product Images?
After taking the product photo, the eCommerce business owners want this service. Use the shadow effect to give your photographs an inevitable aspect when you feel that your product shot requires a more professional appearance. The image has an attractive feel because of these Photoshop shadows. Professional editors' touch-ups give your unfinished product photo an exceptional appearance.
Once more, companies that want to increase their sales need to use shadow effects. Even after using every available tool, if you still can not receive the intended outcome. Utilize a seasoned picture editor to eliminate shadow effects. You can tell the difference between an unpolished shadow effect and one that has been modified. Therefore, employ shadow services whenever you need to enhance both the appearance and quality of an image.
Who Needs Image Shadow Services?
The majority of customers of this service are store operators who use e-commerce. They concentrate on click-through rate and, finally, revenue after advertising the items on the website. Owners of retail businesses who employ e-commerce are also the biggest customers of this service. Similarly, picture painters apply shadows to products to give them a polished, lively, and realistic appearance, which eventually enhances user engagement and sales.
We are a well-known international image retouching and editing company that has operated since its founding with the greatest integrity, work ethic, and professionalism.
We have more than 100 qualified graphic designers to provide color-correcting services.
We promise to provide high-quality color-correcting services at a reasonable cost.
We provide you with 24/7 support 365 days a year.
Each item or object naturally casts a shadow of its own. It might not be able to catch every aspect of it when shooting the picture. Additionally, during post-processing, the natural shadow could vanish. So, in order to improve the perception of the product, you will need the help of image shadow services.
Are you still unsure of the sort of shadow service that would be best for you? Never be hesitant to get in touch with us or request a free trial to examine our qualities.